Late in the summer of 2012, I stumbled upon a website. I was completely intimidated by it, yet I kept visiting. Regular people like me, but obviously far better writers than me, were sharing stories and inviting the world to read and vote on them. I wanted to be just like them. So that September I worked up the courage to participate.
I was rejected.
The site was the yeah write weekly writing challenge. I received the first of many "love letters" from then submissions editor, Flood G. It's a love letter because you are told in the nicest way possible why what you have written is just fine for your own blog, but it just doesn't meet the standards of the yeah write way.
In October, I either wore Flood down with my persistence or actually figured out what to do because I became a yeah write "virgin" on Challenge Grid #79. I didn't win, but I learned so much by seeing which posts had the most votes and were selected by the editors.
Some weeks I submitted a post that was rejected. Some weeks I knew that I just hadn't written "the best on the grid," so I didn't link up. Still, I began to approach my blog posts in a new way. "Am I telling this story in the most interesting way?" "What's the 'so what?' of this anecdote?" I started to pay attention to my word count. I realized that people can choose to read my blog or not, so I should give the best that I've got.
As a result of the support, feedback, guidance and inspiration from the community of writers at yeah write, I've been honored to have several posts recognized on the challenge grids. Below is my collection of badges with links to the posts. I borrowed the idea of creating this page from  Arden, just one of many fantastic bloggers I've met through the yeah write. You can visit the page she devoted to yeah write on her blog Arden Ruth Writes.
*****
#350 non-fiction editor's choice: exposure therapy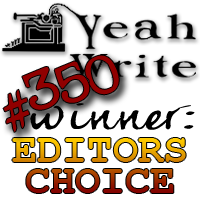 #344 non-fiction crowd favorite: nothing but net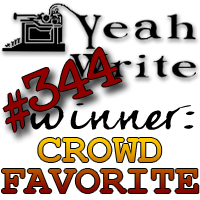 #287 fiction|poetry top 3: foul-weather friend
#279 nonfiction crowd favorite: make her cry
#yw274 fiction|poetry top 3: the zit
#yw261 fiction|poetry crowd favorite: heartburn
#yw260 microstory top 3: candling
#yw257 microstory crowd favorite: time in a bottle
#yw256 nonfiction editor's pick & crowd favorite: seeking lalochezia
#yw256 fiction|poetry crowd favorite: food for thought
#yw253 fiction|poetry editor's pick & crowd favorite: swimming lessons
#yw253 nonfiction editor's pick: big and little
#yw252 fiction|poetry crowd favorite: one day there may be hospital corners
#yw243 fiction|poetry top 3: the untested blade
#yw240 fiction|poetry top 3: ever after
#yw239 microstory top 3: unrequited
#yw238 microstory editor pick & crowd favorite: dreams knocked down
#yw233 microstory crowd favorite: whetting the appetite
#yw231 fiction | poetry top 3: grief brigade
#yw228 fiction|poetry editor's pick: the un-mending wall
#yw219 micro editor's pick and top three: b side
#yw217 micro top three: new tricks
#yw 216 micro editor's pick: distant
#yw213 fiction|poetry crowd favorite: two bag limit
#yw213 micro crowd favorite: dine and dash
#yw 210 nonfiction crowd favorite: use your words
#yw209 nonfiction editor pick and top 3: shame with a side of fries
#yw204 fiction|poetry top 3: no (wo)man's land
#yw202 fiction|poetry top 3: the clock says
#yw202 micro top 3: both hands and a flashlight
#yw201 nonfiction top 3: I was going to write a book
#yw201 fiction|poetry top 3: even the word "sonnet" isn't an iamb
#yw200 nonfiction top 3: a love story for Valentine's Day
#yw200 fiction|poetry top 3: shooting the moon
#yw198 nonfiction top 3: avoiding (tongue) depression
#yw198 microstory top 3: through the pale door
#yw196 fiction|poetry crowd favorite: the one that got away
#yw196 microstory crowd favorite: angling for understanding
#yw186 microstory crowd favorite: thwarted
#yw184 microstory top 3: table manners
#yw179 nonfiction Editor's Pick: Sisyphus
#yw178 gargleblaster Crowd Favorite: crow
#yw172 summer series supergrid Crowd Favorite runner-up & selected for the summer series invitational grid: there is no Nobel Prize for motherhood
#yw168 Gargleblaster Top Row 7: office politics
 #yw167 Gargleblaster Top Row 7: long haired freaky people need not apply
#yw166 Editors' Pick: smoke gets in your eyes
#yw163 Top Row Three: liquid courage
May 2014: My entry to #yw151, Please don't cheer for my son, is chosen as a BlogHer Voice of the Year in the OpEd category and featured on Freshly Pressed:
#yw159 gargleblaster Top Row 7 for a tribute too late
#yw156 Top Row Four for in the hallway and Comment Bob
My #yw155 entry is chosen as a featured member post on BlogHer as well as Freshly Pressed: Who is that woman with my son?
#yw154 Top Row Four: The leftovers
I didn't submit a post, but I commented on each entry and earned this cute guy for #yw153
February 24, 2014:
who's on fourth: yeah write interviews Cynthia K of that cynking feeling
#yw146 Top Row Five: Tomorrow could be worse
#yw143 Editor's Pick: I don't know my neighbors

#yw131 Editor's Pick: Try to remember
#yw119 Editor Pick: Speaking up, speaking down
#yw109 Jury Prize Winner: not a mother figure
#yw108 Editor's Pick & Top Row Five: mama in the waiting room
#yw104 Editor's Pick & Top Row Five: Everyone poops
#yw102 Editor's Pick: 1 in 50
#yw100 Editor's Pick & Crowd Favorite: The apple of my eye